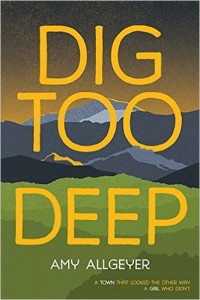 I recently had the pleasure of reading Amy Allgeyer's debut Young Adult Novel Dig Too Deep and I loved it so much I wanted to share it with you all!
First things first – this book is so timely. With its unflinching approach to how sound environmental practises are often tossed aside in the name of profits and local employment, Dig Too Deep does a masterful job of discussing mountaintop removal in coal mining, something I'd heard of but was not too familiar with.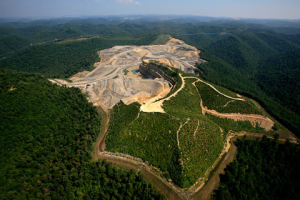 The book tells the story of high school student Liberty (love the name), who is forced to move to Kentucky to live with her Granny when her mother is jailed for suspected environmental terrorism. But Granny's world has changed – the mountains are being destroyed, the well water is bright orange, and people in the area are getting sick, including Granny. And Liberty, who until now has been a gifted student in a private school in Washington, finds herself in a strange new world where everyone seems to know that something bad is happening, but are too afraid or powerless to stop it. And while Liberty may think her public school classmates are hayseeds and chickens for not confronting the issue, she comes to realize the complexity of the issue for all involved.
Allgeyer is a world builder. You feel you know this world and even the potential love triangle has its own surprising twists and turns along the way. Can Liberty help her neighbours? Can she cope with her increasingly sick Granny? Can she forgive her mother? (un-affectionately called MFM – my former mother – by Liberty.
I loved this book and I think it is going to spark a lot of wonderful conversations and debates amongst its readers! A real page turner!
You can pre-order the book here.  I think this book would be really useful for the jobs versus the environment debate in the classroom. For the rest of us, it is just a marvelous read.
If you want to learn more about Amy, visit her website.