Don't you love summer?
If you're like me, you've been soaking up the sun (a bit), working (a lot), and reading, reading, reading!
In Canada, there's still a month until school starts again, so I thought I'd share some new middle grade books releasing this month that are worth checking out:
Zinnia and the Bees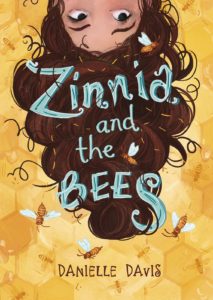 The Description:
Talk about having a lousy day. While Zinnia's seventh grade classmates are celebrating the last day of school, she's cooped up in the vice principal's office, serving detention. Her offense? Yarn bombing a statue of the school mascot. And when Zinnia rushes home to commiserate with her older brother, Adam, who also happens to be her best friend, she's devastated to discover that he's left home with no explanation. Just when it looks like Zinnia's day can't possibly get any worse, a colony of frantic honeybees mistakes her hair for a hive and lands on her head! Told from the alternating perspectives of Zinnia a humorous young loner and knitter and an unintentionally comical hive of honeybees, this quirky, heartfelt novel will strike a chord with anyone who has ever felt alone, betrayed, or misunderstood as it explores the challenges that come with learning to trust yourself and the often messy process of discovering the true meaning to home.
I've read this book already and loved it!
The Countdown Conspiracy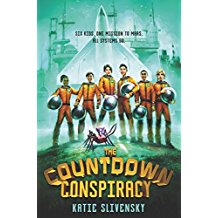 The Description:
Ambassador, you are go for launch in T- minus 5…4…3…2…. Get ready to blast off with this high-action, high-stakes middle grade adventure that's perfect for fans of Chris Grabenstein and Peter Lerangis!
Miranda Regent can't believe she was just chosen as one of six kids from around the world to train for the first ever mission to Mars. But as soon as the official announcement is made, she begins receiving anonymous threatening messages…and when the training base is attacked, it looks like Miranda is the intended target. Now the entire mission—and everyone's lives—are at risk. And Miranda may be the only one who can save them.
The Martian meets The Goonies in this out-of-this-world middle grade debut where the stakes couldn't be higher.
Karma Khullar's Mustache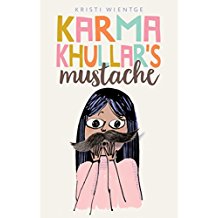 The Description:
Debut author Kristi Wientge tackles the uncomfortable—but all too relatable—subject of female body hair and self-esteem with this sweet and charming novel in the tradition of Judy Blume.
Karma Khullar is about to start middle school, and she is super nervous. Not just because it seems like her best friend has found a newer, blonder best friend. Or the fact that her home life is shaken up by the death of her dadima. Or even that her dad is the new stay-at-home parent, leading her mother to spend most of her time at work. But because she's realized that she has seventeen hairs that have formed a mustache on her upper lip.
With everyone around her focused on other things, Karma is left to figure out what to make of her terrifyingly hairy surprise all on her own.
Again – I've read this book already and it's delightful!
Kat Greene Comes Clean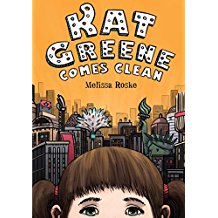 The Description:
Kat Greene lives in New York City and attends fifth grade in the very progressive Village Humanity School. At the moment she has three major problems—dealing with her boy-crazy best friend, partnering with the overzealous Sam in the class production of Harriet the Spy, and coping with her mother's preoccupation with cleanliness, a symptom of her worsening obsessive-compulsive disorder.
Read this one, too and it is heartwarming and wonderful!
Night of the Living Cuddle Bunnies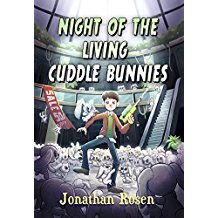 The Description:
Twelve-year-old Devin Dexter has a problem. Well, actually, many of them. His cousin, Tommy, sees conspiracies behind every corner. And Tommy thinks Devin's new neighbor, Herb, is a warlock . . . but nobody believes him. Even Devin's skeptical. But soon strange things start happening. Things like the hot new Christmas toy, the Cuddle Bunny, coming to life.
That would be great, because, after all, who doesn't love a cute bunny? But these aren't the kind of bunnies you can cuddle with. These bunnies are dangerous. Devin and Tommy set out to prove Herb is a warlock and to stop the mob of bunnies, but will they have enough time before the whole town of Gravesend is overrun by the cutest little monsters ever? This is a very funny "scary" book for kids, in the same vein as the My Teacher books or Goosebumps.
This book is a HOOT and your kids are going to devour it!
Any and all of these books will be a great addition to your home or school library, or ask you local library to order in a copy!
Happy reading!