Happy Autumnal Equinox!
via GIPHY
I love Autumn!  It's the season of heavier sweaters, scarves and gloves, boots and pumpkin spice lattes.
I especially love books set in the fall, or reading creepy books in the fall. There's nothing like wrapping yourself up in a cozy blanket and immersing yourself in a book when its cold and blustery outside!
This week I thought I'd share a two middle grade and two YA books that will get you in the mood for fall:
Monsterville: A Lissa Black Production by Sarah S. Reida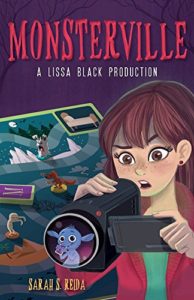 The description:
Thirteen-year-old Lissa Black is miserable when her parents force her to move from New York City (the perfect home for an aspiring writer/director/actress) to Freeburg, Pennsylvania, nowhere capital of the world. There's nothing to do there, except play her little sister Haylie's favorite new game, Monsterville, and hang out with her new neighbor Adam.
But when a walk in the woods lands her face-to-face with a swamp monster hungry for brains and then a Sasquatch that moos, even Lissa can't call her new home totally boring. With Adam's help, she catches the culprit behind the drama: a shape-shifting goblin who's fled from the monster world of Down Below.
And what do you do with a creature that can be literally anything? Make monster movies, of course! Lissa is convinced that Blue will be the secret to her big break.
But when Haylie goes missing on Halloween, Lissa, Adam, and the monster must venture Down Below to stage a rescue—and face the real Monsterville, which is anything but a game.
Monsterville is a fusion of The Boxtrolls, Jumanji, and Candyland, weaving together friendship, family, and monsters into a funny fantasy-horror brimming with heart from a great new middle grade voice..
Why I loved it:
This book is fun and creepy and I love the imaginative way Reida uses the vocabulary of film production to tell her tale. I see a lot of kids loving this one!
The Last Boy at St. Edith's by Lee Gjertsen Malone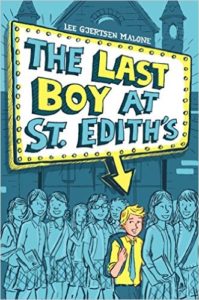 The Description:
Seventh grader Jeremy Miner has a girl problem. Or, more accurately, a girls problem. Four hundred and seventy-five of them. That's how many girls attend his school, St. Edith's Academy.
Jeremy is the only boy left after the school's brief experiment in coeducation. And he needs to get out. His mom won't let him transfer, so Jeremy takes matters into his own hands: He's going to get expelled.
Together with his best friend, Claudia, Jeremy unleashes a series of hilarious pranks in hopes that he'll get kicked out with minimum damage to his permanent record. But when his stunts start to backfire, Jeremy has to decide whom he's willing to knock down on his way out the door.
Why I loved it:
Going back to school in the fall is fraught with discomfort for kids for a whole bunch of kids. But never has one boy so desperately wanted to change his circumstances as Jeremy. So much fun!
How to Hang a Witch by Adriana Mather
Whenever I think of Salem Massachusetts, I think of fall, probably because the story of the Salem Witch Trials was so creepy and awful.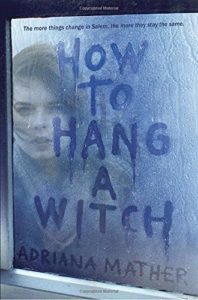 The Description:
It's the Salem Witch Trials meets Mean Girls in a debut novel from one of the descendants of Cotton Mather, where the trials of high school start to feel like a modern day witch hunt for a teen with all the wrong connections to Salem's past.
Salem, Massachusetts is the site of the infamous witch trials and the new home of Samantha Mather. Recently transplanted from New York City, Sam and her stepmother are not exactly welcomed with open arms. Sam is the descendant of Cotton Mather, one of the men responsible for those trials and almost immediately, she becomes the enemy of a group of girls who call themselves The Descendants. And guess who their ancestors were?
If dealing with that weren't enough, Sam also comes face to face with a real live (well technically dead) ghost. A handsome, angry ghost who wants Sam to stop touching his stuff. But soon Sam discovers she is at the center of a centuries old curse affecting anyone with ties to the trials. Sam must come to terms with the ghost and find a way to work with The Descendants to stop a deadly cycle that has been going on since the first accused witch was hanged. If any town should have learned its lesson, it's Salem. But history may be about to repeat itself.
Why I love it:
There were so many things I didn't see coming here, so many twists and turns that Mather throws at us, that I was giddily exhausted by the end.
Shallow Graves by Kali Wallace
The description:
Breezy remembers leaving the party: the warm, wet grass under her feet, her cheek still stinging from a slap to her face. But when she wakes up, scared and pulling dirt from her mouth, a year has passed and she can't explain how.
Nor can she explain the man lying at her grave, dead from her touch, or why her heartbeat comes and goes. She doesn't remember who killed her or why. All she knows is that she's somehow conscious—and not only that, she's able to sense who around her is hiding a murderous past.
Haunted by happy memories from her life, Breezy sets out to find answers in the gritty, threatening world to which she now belongs—where killers hide in plain sight, and a sinister cult is hunting for strange creatures like her. What she discovers is at once empowering, redemptive, and dangerous.
Why I love it:
From Breezy's awakening to all the creepy places she goes and the creepy people/things she meets, I was hooked. And I never look at a fresh plot of dirt the same.
I guarantee that any of these books will put you in an autumn kind of mood!