One of the great joys I have now that I am a writer is that reading is part of my job. An absolute requirement in fact!  While I read across all genres, I am paying particular emphasis on middle grade, young adult and picture books, as those are the genres I'm writing in right now and reading really good work can only make mine better.
One thing I have discovered about myself is that as soon as I discover an other I like – Holly Black, Maureen Johnson, Neil Gaiman – I read everything I can get my hands on by them.  EVERYTHING.
I am like a kid in the candy store, until I have read it all and then look around hungrily for the next big thing.  My obsession right now is Patricia Wrede.  She is amazing, wonderful and brilliant.  Her voice is true and her character's voices are spot on.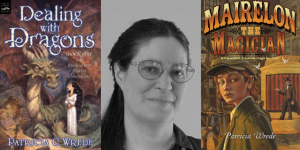 After making my way through the Enchanted Forest series I am now into her Magic Barrier books. Sadly, I will soon be through them, too, and turning my attention to the next great wonderful thing.
I also tend to read more than one book at a time. I am reading David McCullough's biography of Harry Truman as well as a book by the late Wayne Dyer. Next on my list is H is for Hawk.
Thank goodness for Goodreads, where I can organize it all, as well as create lists of books I want to read next. It is a never-ending list, that's for sure. If you want to connect on Goodreads, you can find me at goodreads.com/wendymcleodmacknight – I'd love that.
So are you an author devourer like me or do you spread yourself all over the place? I'd love to know!
I expect to start working with my editor in the next few weeks – can't wait to share what the process is like with you all!