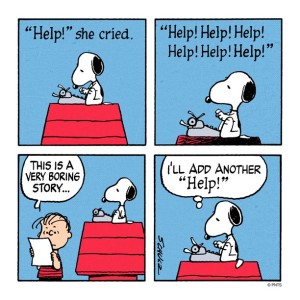 Early on in my writing process, I was scared to show anyone anything.
There is so much blood, sweat, and tears poured into those early drafts and our poor egos can feel quite battered when one of our early readers doesn't love it as much as we do or has some suggestions that makes perfectly good sense but makes us cringe because we know how much work will be required to get it done.
I no longer feel like that.
I currently have six beta readers (early readers) who read my work. They come at the work from different perspectives and expertise and I benefit from that.
Part of the reason that I no longer feel as defensive is that I no longer share until I have gotten to a point where I feel that a) the book is well written (you don't want to waste your beta readers' time); and b) I need to know where the issues are before I do the last revision.
I recently sent my YA Fantasy out to my beta readers and am starting to get back feedback. I will wait for all of the feedback before I decide what does or does not need changing, but the feedback I've gotten to date has been helpful and positive, even if the reader didn't love all of the book.  Since I am writing in a completely new genre, this feedback is especially helpful to me.
I want to write the best books I can. The whole point of beta readers is that they help us realize where we are failing to make our point, where our characters are not well drawn and where we are inconsistent or dull.
The fact that people are willing to take the time to read a book that is obviously a work in progress is a real gift and blessing, and I am grateful for my beta readers  and their patience.
In the end, my book will be all the better for the thoughtful critique . I want the final version of my books to have characters people love and plots that draw them in and keep them drawn in.
It is impossible to do that unless you get feedback from others.
Either write something worth reading or do something worth writing.
– Benjamin Franklin