Click on the links below to read more about me and my books!
December 30, 2013: my op-ed piece at the Globe and Mail about chucking it all to try and become a children's book author
July 21, 2015: Publisher's Weekly announced that my debut novel, It's a Mystery, Pig Face! will be published by Sky Pony Press
March 22, 2016: The Winged Pen Blog recently interviewed me about my journey to publication!
April 4, 2016: The Daily Gleaner interviewed me about my new career!
July 14, 2016: Author Melissa Roske puts me under the microscope using the famous Proust Questionnaire!
September 11, 2016: Blogger Jamie Kramer featured It's a Mystery, Pig Face! on her wonderful blog!
September 13, 2016: Publisher's Weekly's Children's Bookshelf announced my two-book deal with Harper Collins' Greenwillow Books Imprint: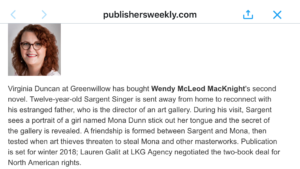 September 26, 2016:  Author Jonathan Rosen interviewed me over at the Tuesday Writers blog 
September 30, 2016: I'm featured on the Swanky Seventeen Website in their regular Meet the Author post. 
October 7, 2016: I'm featured in the Fall Issue of the University of New Brunswick's Alumni News!
December 7, 2016: I'm over at Pop Goes The Reader talking about what the holiday season means to me!
February 2, 2017: I'm interviewed by the Telegraph Journal!
March 23, 2017!- I'm interviewed over at I Write for Apples blog.
April 5-8! It's a Mystery, Pig-Face! the  town read for the inaugural St. Stephen StoryFest!
April 11, 2017: It's a Mystery, Pig Face! in the news!
April 2017: I'm presenting at the Frye Literary Festival – read all about it here
August 11, 2017: I'm inducted into the Chocolate Lover's Society!
September 8, 2017: It's a Mystery, Pig Face! reviewed by Atlantic Books Today!
April 2018: The Frame-Up gets a starred review from Booklist: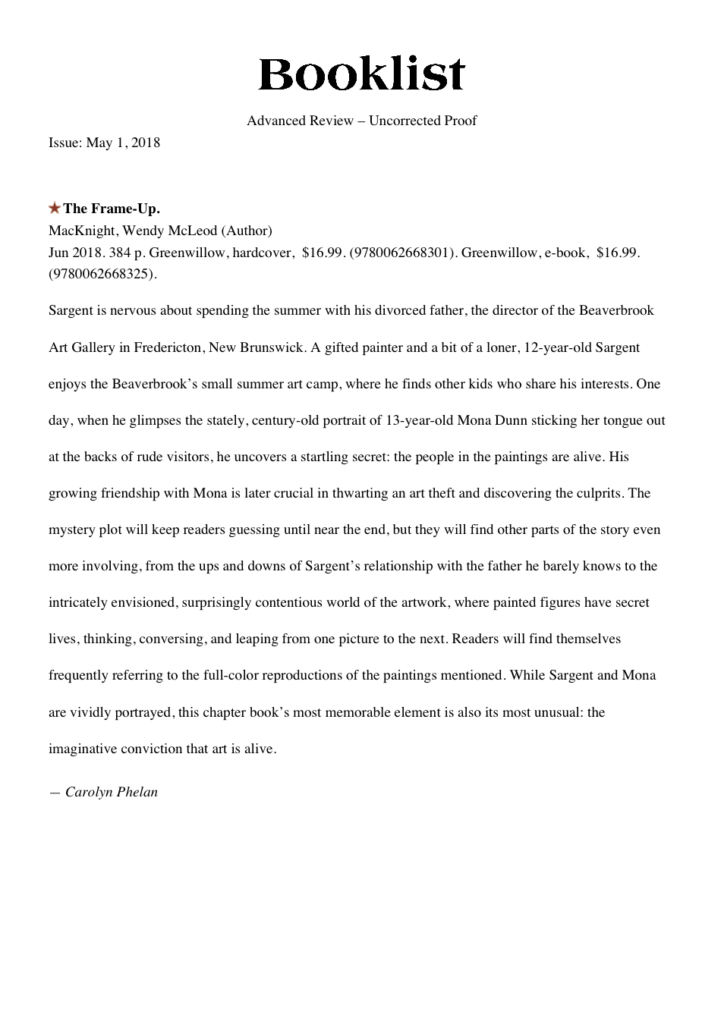 April 2018: The Frame-up gets a wonderful review by The School Library Journal:
Gr 3-6–Inspired by the author's lifelong love of art and the moving portraits in Harry Potter and the Sorcerer's Stone, this inventive fantasy gives a second life to its painted subjects. For the past 100 years, Mona Dunn has watched the world go by. Like the rest of the pieces at the Beaverbrook Art Gallery, she is alive but only allowed to interact with the other painted inhabitants of the gallery. Communicating with the real world is strictly forbidden. These rules keep the gallery's secret safe but make life lonely and boring for the eternally 13-year-old Mona. So boring, that one afternoon she is caught recklessly moving in front of the gallery director's son, Sargent. Sargent's own loneliness prompts him to develop a friendship with Mona. Their mutual insecurity with peers is relatable despite the magical circumstances. Readers will delight in the canvas world that exists on the other side of the frame. Mona's gallery neighbors are equal parts quirky and endearing, while a sinister threat propels the plot forward. The book includes a full-color insert of the masterpieces referenced, which could be a great starting point for readers to imagine stories and worlds of their own. VERDICT Not just for art enthusiasts, this middle grade read paints fantasy, humor, and mystery into a satisfying tale about the power of friendship.–Sophie Kenney, Vernon Area Public Library District, IL