I hear some people love revising. I do, too, but I sort of feel I suck at it.
I am in the throes of revising my current WIP and I was thinking that my process may be, to put it politely, a little 'garbled'.
My first draft of every book has a loose outline that I mostly pants my way through.
I am more and more convinced that this is a wretched way to go about things, but I seem incapable of doing anything different.
Finally,  I end up with a printed version and
a WHOLE lot of notes…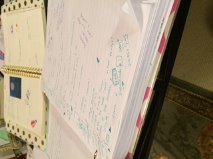 Sigh.
Then I make a timeline with rolled paper.
"Ah yes, I will make sure I don't have Wednesday night occur before Wednesday morning THIS time!"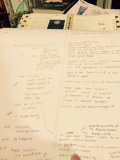 I reread Martha Alderson's Plot Whisperer to remind myself of why I am screwing this up…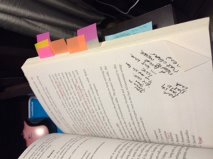 Then I finally break down and do what works every.single.time: detailed scene-by-scene, chapter-by-chapter analysis.
In a panic, I refer back to other books on revisions. I stop and drink tea. I may watch some bad TV. I cut, cut, cut. And I add in all the lovely details that I can't seem to come up with the first couple of go-rounds.
The draft I'll turn into my agent will be so different from the original draft that they would hardly recognize each other if they sat side by side on the train, though they might both marvel that they have characters with the same name.
The first draft of my most recent book was 400 pages. I don't know how Stephen King or Donna Tartt tame their  beasts. I cannot imagine revising a 700 page novel! But then, I'm not Donna or Stephen.
If you have advice, I'd love it!