I stumbled upon a twitter thread yesterday by an author I greatly admire, Kate Milford.
She was commenting upon yet another tweet by the amazing Kelly Barnhill: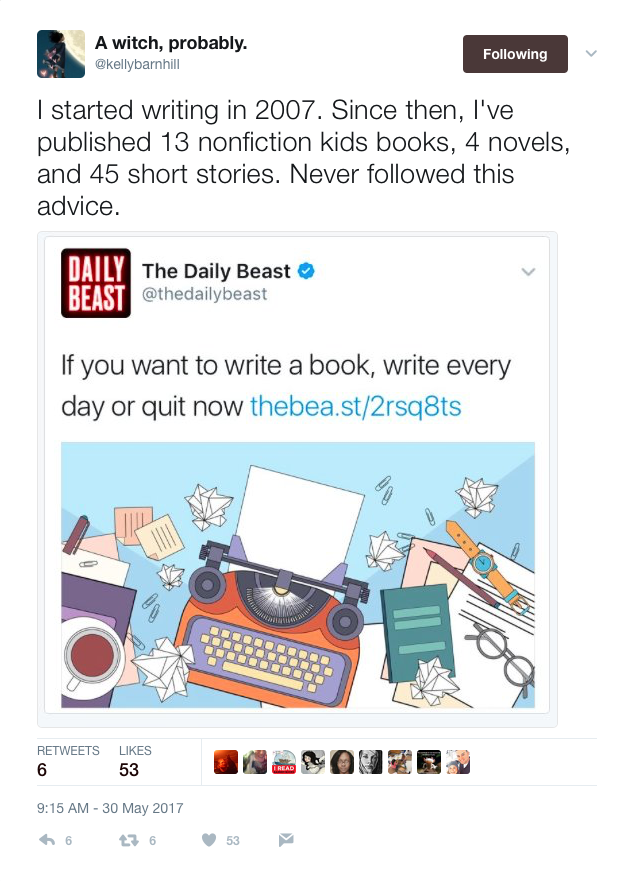 Kate agreed with Kelly and then went on to write an eloquent thread that basically busted a whole lot of myths about writing. If you're not following Kate on twitter, you must start straight away and you can read the thread over there.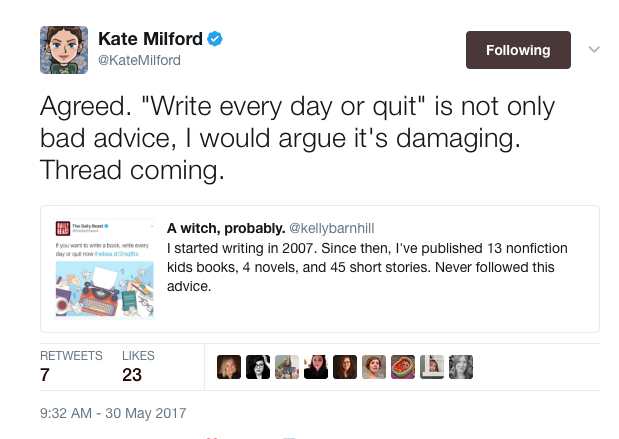 Early on, I often felt that I was somehow in danger of losing my membership in the writing club when I wasn't writing. I remember reading Stephen King's book On Writing and how he writes 365 days a year.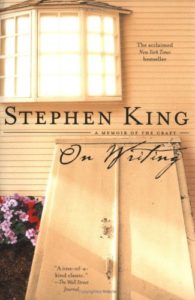 Perhaps I don't have as much to say as Stephen?
While that may be true, the reality is that I am a percolator. I spend a whole lot of time thinking about my writing in my head before I ever put pen to paper or fingers on the keyboard.
On the other hand, when I am writing, I often start early and can go all day. I become an energizer bunny.
Other times, I need to decompress. I need to think or read or do anything BUT write.
But things are always running through my head.
I've had  people ask if I write every single day, and they are often surprised when I say no, just as they are often surprised when I share my intense hours when the muse does hit.
Mostly, I tell them that the important thing is to write.
But how and when you write depends on factors that are deeply personal to you – do you work, do you have kids at home, are you finishing another project – which makes a one-size-fits-all approach to writing impossible.
I am sure that a person's writing gets better the more they write, which is perhaps why Stephen King gave this advice to begin with. Or maybe because it worked so well for him he figured it would work well for everyone else.
But for most of us, comparing ourselves to Stephen King, both in terms of talent and output, is a fool's game.
It may take you a year to write your first draft.
It may take you a month.
There is no right way to do it.
And the only wrong way to do it, so far as I can tell, is not to write at all.
Keep writing!