One of my favourite characters in The Frame-Up is Somerset Maugham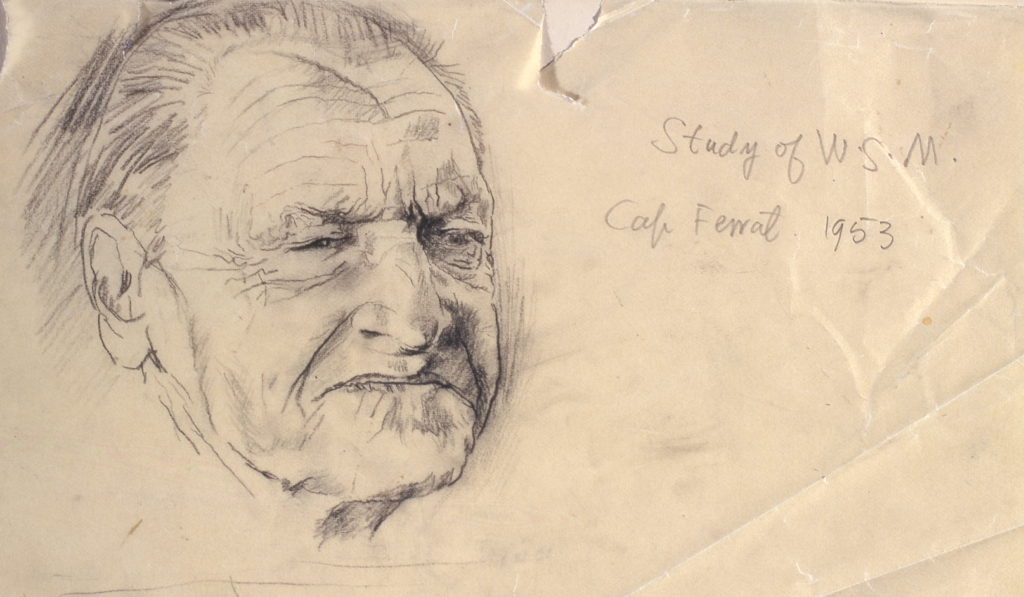 Why? Well first of all, Maugham is one of my favourite authors (I re-read The Razor's Edge at least every other year) and he was also a friend of Lord Beaverbrook's.
With his brilliant storytelling mind, he was a natural fit for the story.
The Beaverbrook Art Gallery has several of the studies artist Graham Sutherland did of his portrait subjects (including sketches of Winston Churchill Sutherland did in preparation for the portrait he painted of the great man that Churchill famously destroyed in The Crown!) and I loved this sketch of Maugham in particular for two reasons:
1) There is kind of a pinched nobility to Maugham's face in the sketch that draws you in and makes you want you to hear his stories. Maugham was 79 years old at the time of the sketch and had lived a long and interesting life.
2) The sketch is of a head only.
In The Frame-Up, most of the residents who live behind the frames have full bodies they can move between paintings in, regardless of whether we can see that body in the portrait or painting, because the artist was thinking of the whole of them whilst painting them.
That is not the case for sketches of body parts, since the artist is focusing exclusively on one thing, not the whole person.
Thus, our friend poor Mr. Maugham is only a head, albeit a head filled with 79 years' worth of experience.
Imagine the frustration!
In the story, Maugham must rely on the kindness of other residents to take him places, and he often gets left behind, since Lord Beaverbrook has stuck him in a basement workroom to punish him for spreading gossip.
Maugham's eyes narrowed. "It's never just us and her," he whispered. "We live in a world where someone is always watching. The paintings in this gallery have lived here for decades. They get bored, you know, they cause mischief. . . ."
I can't wait for you to meet his character in the book!