At least half of the characters in The Frame-Up are actual paintings.
Most of these paintings have been part of the Beaverbrook Art Collection for decades, which is why they are included in my book.
What would it be like to live in close quarters with the same people for decades on end?
Today, I thought I'd introduce you to an important locale in the book:
The Terror I always knew this painting would be included in the book. There is something so perilous, so frightening about the scene, which depicts the the abandoning of the ship during the ill-fated Franklin expedition.
In his book, Masterworks From the Beaverbrook Art Gallery, Editor Terry Graff says this of the artist:
George Chambers was an English marine painter. At the age of ten, he served as a cabin boy on a coasting vessel and later apprenticed to the master of a brig, or sailing vessel,  in the Meditteranean and Baltic Seas. He had a natural talent for art and impressed the captain and crew with his remarkable drawings of sea vessels. At his request, the captain released him from serving his apprenticeship so he could devote himself full-time to his painting. Chambers went on to have several exhibitions, including at Tate Britain, the National Galleries of Scotland, and the Royal Academy of Maritime Pictures, and to become arguably the most important marine painter of the nineteenth century.
In The Frame-Up, the painting serves as an important locale, and our heroine Mona Dunn must brave the stark and dangerous landscape if she hopes to save the day.
I loved the idea that the characters depicted in the painting had to spend their days re-enacting this horrible event, and then, once the Gallery was shut down for the night, could escape and warm up elsewhere.
Personally, I can't imagine having the nerve to step into this painting, and it says a lot for Mona's character that she's willing to. There's an important secret hidden behind the walls of ice, one that can only be found if Mona is brave enough to try.
The howling wind almost knocked her off her feet, tossing icy particles that stung her eyes. She moved timidly, testing the ice with each step. The wind whirled another cyclone of snow and ice, out of which stepped a man with a grizzled face.

"Lord thundering', what are ya doing here? It ain't safe!"
If you look at the cover of The Frame-Up, you might be able to spot this painting!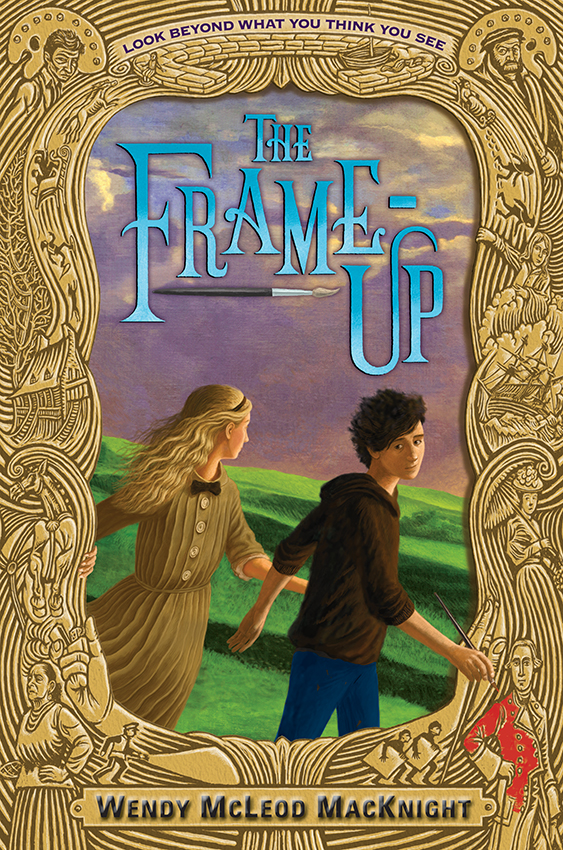 Next week, we'll head to a locale in Italy!