I love New Brunswick's Pride in Education.
What is PIE?
Teachers/educators who volunteer their time to help create safe and inclusive schools for students, teachers, staff and their family members.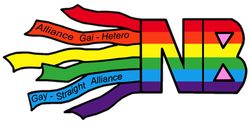 This weekend is their annual conference, where students from across the province come together to share, to learn, to support one another.
The theme this year is True Colours.
I've been invited, as an ally, to lead a writing workshop.
Since I only have 45 minutes, I can't get too deep into the technical aspect of writing.
Instead, I'm going to focus on tools they can use as they begin their writing journey.
More importantly, I'm going to be talking about #ownvoices and encouraging them to write the stories that they and the world need to read.
And I'm going to be sharing some of my favorite #ownvoices writers with them.
I'm honored to be part of this year's conference and cannot wait to meet all the young people who are going to change the world with their truth and beauty!
See you there!