What should you know about me? Let's see….
I used to be the Anglophone Deputy Minister of the Department of Education and Early Childhood Development for the Government of New Brunswick.
I grew up in St. Stephen, a wonderful small town in New Brunswick, Canada. If you want to learn more about St. Stephen and  you especially want to go visit the chocolate factory there, click here.
I live in Hanwell, New Brunswick. I have two children and a supportive husband. I may feed raccoons sometimes even though I know I shouldn't.
I've published two middle grade novels:

It's a Mystery, Pig Face! SkyPony Press, 2017
The Frame-Up, a middle grade fantasy set in the Beaverbrook Art Gallery, in Fredericton, New Brunswick Canada, was published by Greenwillow Books, an imprint of Harper Collins, on June 5th, 2018.

I have an amazing literary agent, Lauren Galit of  the LKG Agency. If you want to learn more about LKG, click on ABOUT up on the main menu.  Lauren is very smart and very funny and I am lucky to have her!
How do you pronounce McLeod? McLeod rhymes with proud (and loud…)
 Press Kit:
Bio:
Wendy lives in Hanwell, New Brunswick, Canada, and wrote her first novel at age nine. During her first career, she worked for the Government of New Brunswick, ending her career as the Deputy Minister of Education. She has been know to wander art galleries and have spirited conversations with the paintings – mostly in her head, though sometimes not. Her debut middle grade novel, It's a Mystery, Pig Face! was published by Sky Pony Press in 2017. She can't wait for The Frame-Up to come out so she can share her love of art and her love for the world-class  Beaverbrook Art Gallery. She hopes readers will be inspired to create their own masterpieces and visit their own local art gallery. And even better, she hopes they'll come to Fredericton and visit the  Beaverbrook Art Gallery and meet Mona and the rest of the characters in the book (and maybe Wendy, too!)
Want to follow Wendy to learn more about The Frame-Up in the coming months and get in on cool giveaways? Then click below!
Twitter: https://twitter.com/wendymacknight
Instagram: https://www.instagram.com/wendymcleodmacknight/
Facebook: https://www.facebook.com/WendyMcLeodMacKnightAuthor/
Website: https://wendymcleodmacknight.com
High resolution image of The Frame-Up: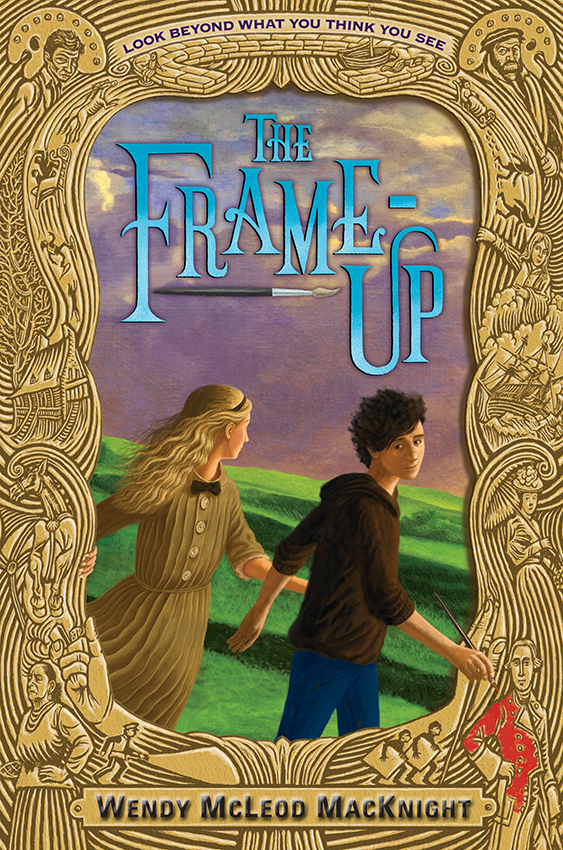 Flap Copy for The Frame-Up:
The residents of the Beaverbrook Art Gallery live by a very specific set of rules:

1.      Under no circumstances are residents to interact with humans or move about when there are humans in the building.

2.      Do not get caught outside your painting.

3.      Do not go into someone else's painting without his or her permission.

4.      Issues requiring attention are to be directed to the Portrait of Lord Beaverbrook.

5.      Paintings wishing to travel between the main floor and the basement must pass through Santiago El Grande.

6.      Failure to abide by these rules will result in punishment and possible banishment.

7.      Rules subject to change without notice, as per the will of Lord Beaverbrook.

Thirteen-year-old Mona Dunn is about to break the first two. But she's been trapped in the same place for more than a hundred years. So, really, who can blame her?

Twelve-year-old Sargent Singer believes in his own set of rules:

1.     Dad abandoned you so don't trust him.

2.     This summer is going to be a disaster. Just get through it.

3.     You don't need friends.

Meanwhile, magic and mischief is brewing at the Beaverbrook. And when Sargent catches a glimpse of something unexpected and forbidden, his rules go out the window too, and that mischief snowballs into a friendship story, a mystery, and a crime caper like no other. Exactly who is framing who?
Trade Reviews for The Frame-Up:
Starred review, Booklist: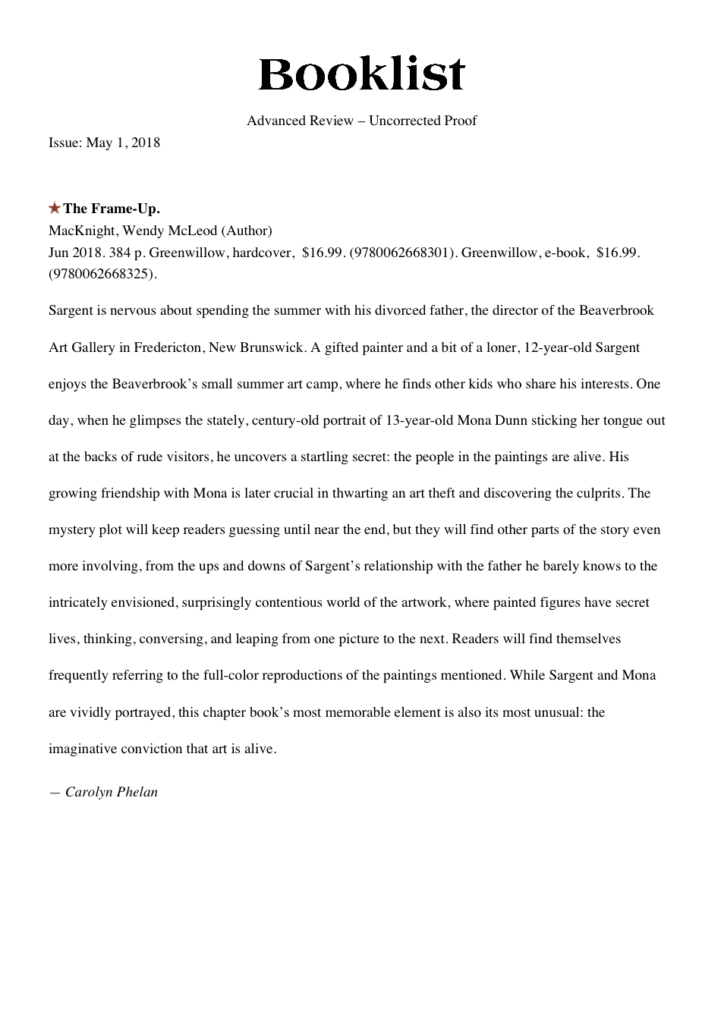 The School Library Journal:
Gr 3-6–Inspired by the author's lifelong love of art and the moving portraits in Harry Potter and the Sorcerer's Stone, this inventive fantasy gives a second life to its painted subjects. For the past 100 years, Mona Dunn has watched the world go by. Like the rest of the pieces at the Beaverbrook Art Gallery, she is alive but only allowed to interact with the other painted inhabitants of the gallery. Communicating with the real world is strictly forbidden. These rules keep the gallery's secret safe but make life lonely and boring for the eternally 13-year-old Mona. So boring, that one afternoon she is caught recklessly moving in front of the gallery director's son, Sargent. Sargent's own loneliness prompts him to develop a friendship with Mona. Their mutual insecurity with peers is relatable despite the magical circumstances. Readers will delight in the canvas world that exists on the other side of the frame. Mona's gallery neighbors are equal parts quirky and endearing, while a sinister threat propels the plot forward. The book includes a full-color insert of the masterpieces referenced, which could be a great starting point for readers to imagine stories and worlds of their own. VERDICT Not just for art enthusiasts, this middle grade read paints fantasy, humor, and mystery into a satisfying tale about the power of friendship.–Sophie Kenney, Vernon Area Public Library District, IL