My debut middle grade novel  It's a Mystery, Pig Face! was published by Sky Pony Press in 2017! You can read below, and you can also CLICK HERE to go to the itsamysterypigface.com website!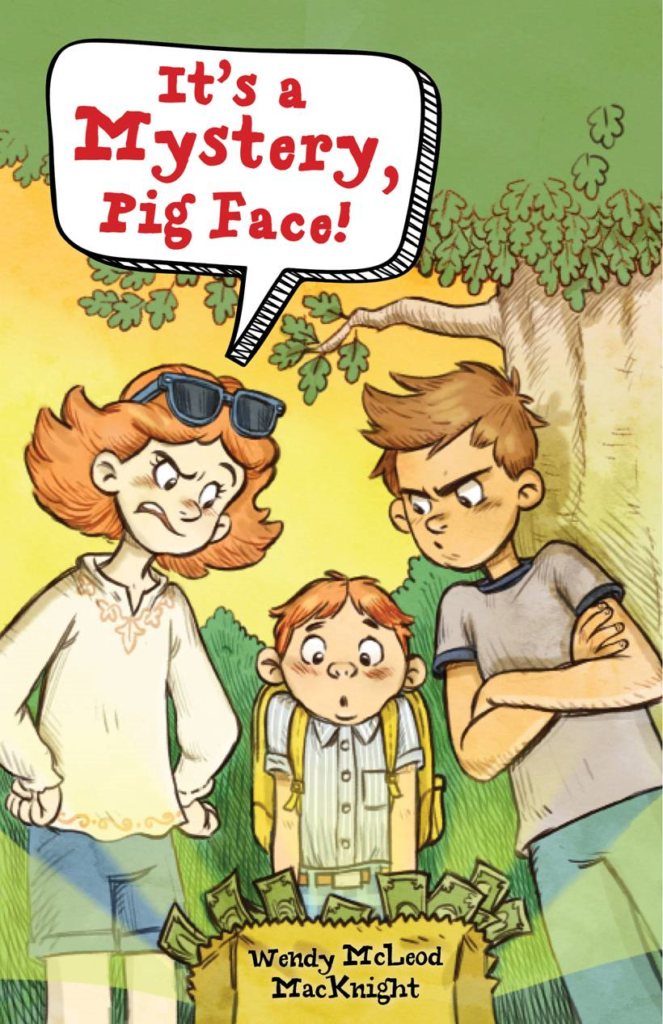 Description:
When anyone in town could be the culprit in a crime, summer will be anything but boring.
Eleven-year-old Tracy Munroe and her family have just gotten back from their family vacation—why did no one realize that her little brother, Lester, a.k.a. Pig Face, was allergic to sand, salt air, and the ocean before they decided to go to the beach?—and now she has three big goals to accomplish before she goes back to school:
Figure out a fantastic end of summer adventure with her best friend, Ralph, budding Michelin-star chef. (And no, Ralph, perfecting a soufflé does not count.)
Make sure Pig Face does not tag along.
Get the gorgeous new boy next door, Zach, to know she even exists.
But when Tracy and Ralph discover an envelope stuffed with money in the dugout at baseball field (and Lester forces them to let him help), they have a mystery on their hands. Did someone lose the cash? Or, did someone steal it? St. Stephens has always seemed like a quiet place to live, but soon the town is brimming with suspects.
Now they're on a hunt to discover the truth, before the trio is accused of the crime themselves.
What People Are Saying About It's a Mystery, Pig Face!
"A witty, warm-hearted, and wonderful book about kids solving the most important mystery of all: what it means to be a friend." —Kristen Kittscher, author of The Wig in the Window
"Tracy and Ralph join the tradition of literary friendships like Frog and Toad's, Charlotte and Wilbur's, Anne and Diana's—the friendships kids never forget. MacKnight's debut sparkles with the soul of middle grade and will leave readers everywhere longing for more." —Janet Sumner Johnson, author of The Last Great Adventure of the PB&J Society
"McLeod MacKnight has created a lovable cast of characters—a girl fascinated with musicals and classic movies, a best friend who dreams of being a famous chef, and one very determined little brother. A humorous and touching story about true friendship, and being proud of who you are." —Dee Romito, author of The BFF Bucket List
"A fun and fast-paced mystery filled with friendship troubles, an annoying younger brother, and a mysterious bag of cash." —Lee Gjersten Malone, author of The Last Boy at St. Edith's
"It's a Mystery, Pig Face! has all the things I want in a book: humor, drama, secrets, adventure, and a kid called Pig Face. MacKnight has woven a sweet tale of friendship and family, first crushes and rivalries, all centered around a mystery full of twists and turns that will keep you guessing. Tracy, her younger brother Lester, and her best friend Ralph are wonderful, quirky, well-rounded characters with just enough misguided good intentions to get themselves into a heap of trouble and the heart and determination to find their way back out again. I also love that the adults in the story have real lives and feelings and play an important role in how everything unfolds. If you're looking for a great middle grade mystery that will keep readers glued to the page, this is the book for you."
—Wade Albert White, author of The Adventurer's Guide to Successful Escapes
Click on the links below to pre-order your copy today!
Or ask your local bookstore to order you a copy!
Go Pig Face!