I love being read to.
Which gave me an idea for another way potential readers/teachers/librarians could "sample" some of the new middle grade novels being released in 2017.
Thus, the #MGdebuts reading channel idea was born.
Basically, the idea is that we debut authors will post videos of ourselves reading some of our books, sharing five things we'd like you to know about our books, plus any of our book trailers.
The channel went live on Monday and we're getting great feedback. The great thing is that the channel is evolving, as each other puts more content on line. Right now, we're focusing on the January, February and March 2017 debut authors, but I hope that other MG authors will want to put their videos up there as well.
Want to check it out?
Then click HERE!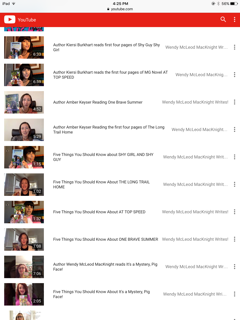 It's been a lot of fun, although it is a little mortifying to see myself on video.
Since I'm going to have to get used to it, I'm sucking it up…
Check it out and let me know what you think!