Hi everyone!
Sorry to be missing in action these past two weeks.
My wonderful sister passed away and so I was of course occupied. It will take a long time to get over this, but I am glad to get back to work.
The first piece of good news is that The Frame-Up just received a five star review from CM: The Canadian Review of Materials, a journal that reviews children's and YA books.
You can read it online and I've copied it in full below!
New York, NY: Greenwillow Books (Distributed in Canada by HarperCollins Canada), 2018
374 pp., hardcover, $21.00
Excerpt:
Every hour on the hour Frank walked the gallery, and in between, he watched the cameras for signs of intruders. What he didn't watch were the painting. After 20 years on the job, they were old hat to him, although their staring eyes still creeped him out.
Truth was, Frank never glanced at the paintings as he made his rounds, and the residents knew it. Still, they were careful not to move when he walked past, and since the cameras didn't record sound, the residents were able to speak freely so long as Frank was in his office. No, Frank was only interested in intruders, and so he did not notice that the entire Cottrell family, along with Edmond and Juliette, were bunched around Mona in her portrait.
"Whatever will you do, Mona?" Lady Cottrell asked in despair, moving baby Frances from one hip to the other. "You have been found out!"
Mona drooped. She'd come close to being caught several times over the years – hadn't they all? It wasn't uncommon for the paintings to show their boredom or frustration when their visitors' backs were turned. It was dangerous, but the thrill made the dreaded three o'clock tour bearable. But this was the first time someone had seen her move. It was disastrous.
"I bet the director's son thinks he imagined you sticking out your tongue," Clem said, trying to be helpful.
His mother shook her head. "Did you not see how he peered at her afterward, all the faces he made, the way he tried to look behind her painting? Clearly he suspects something."
Chances are you've had at least one moment where you could have sworn you saw something move out of the corner of your eye just to turn and find nothing there. You might tell yourself your mind is playing tricks on your or the light must have shifted creating an illusion. It's often easier to explain away than, like Sargent, to look again with an open mind, prepared for the unbelievable.
Sargent Singer, 12, has been invited to spend the summer with his father, Isaac, in Fredericton, NB. It will be a big change from Sargent's New York home, but, already on his way to becoming a well-known artist, he's looking forward to getting an exclusive tour behind the scenes at the Beaverbrook Art Gallery. Because Sargent's father is the director and his father's fiancé Janice also works there, Sargent will have no problem getting full access to the paintings in the museum. Sargent's father hadn't even mentioned Janice before, but Sargent will have lots of time to get to know his new stepmother: she'll be running the art camp Sargent finds out he'll be attending despite already being quite an accomplished artist himself. Sargent's not sure spending the whole summer with his dad, his father's fiancé, whom Sargent's expected to get to know and like, and enjoy art camp with kids he's positive won't know a thing about art. Sargent prepares himself for a very boring summer, but what he learns is almost too much for him: there's an art heist being planned; his father's hiding his success as an artist; and art can speak to the viewer in ways Sargent could never have imagine.
Sargent anticipated having full access to the museum's paintings, but he never thought the paintings would have full access to him. He's been looking forward to seeing the gallery's portrait of Mona Dunn which he runs to see as soon as he arrives. He's seen pictures the portrait, and it is even more beautiful in person. He runs to sneak a second look at the end of the day, and the painting is still there, but Mona's not. He spots her in another painting, trying to stay still on the pier in San Vigilio, Lake Garda. He discovers that the paintings' characters can move from painting to painting and talk to each other, and, although they've been told not to, they can talk to people outside the frames. The people inhabiting the paintings worry they'll be in trouble as Sargent realized the paintings talk back, but, when they stop thieves from robbing the gallery by alerting Sargent and the others, the few people who know the painting's secret realize that not only did making the painting stay still and silent when others were around made them lonely, but it also put them, and the people around them, in danger.
Fortunately, the thieves are stopped, the paintings are saved, and Sargent and Isaac agree to be open and honest in the future, including revealing to the public how the people in the paintings are alive. The paintings can offer an education even the best educated art student couldn't offer. The paintings are delighted: they've wanted to interact with people outside their frames all along.
Set the Beaverbrook Gallery in Fredericton, New Brunswick, paintings from the gallery's collection, reproduced in full colour early in The Frame-Up are brought to life. These visuals and the knowledge that readers could actually see them at the gallery, just as Sargent does, makes the fantastic story that follows feel almost possible.
There's a new twist with the turn of each page: Sargent finds out he's going to have a stepmother; he discovers, by accident, that his father is a well-known artist; he falls hard for Mona, but they both know it will never work; he senses something's off with the new investor and the art restorer his father's hired, but he gets in trouble when he speaks up; he needs to help his friends in the gallery paintings but doesn't want to get them in trouble or put them in harm's way. The secrets that come out over the summer cause many unnecessary problems, but fortunately all have positive outcomes.
As for the summer love between Sargent and Mona, readers will be delighted with the solution, whether they see it coming or not. Weaving history into fantasy, readers won't be able to put The Frame-Up down, and they'll never look at a painting without wondering what it would say if it could talk, and when it will start talking.
Reviewer:
A Master of Education (Literacy) and Master of Library and Information Science, Crystal Sutherland is the librarian at the Nova Scotia Advisory Council on the Status of Women and lives in Halifax.
The second piece of good news is that I am now booking in-school visits, FREE Skype visits, library visits and book club visits!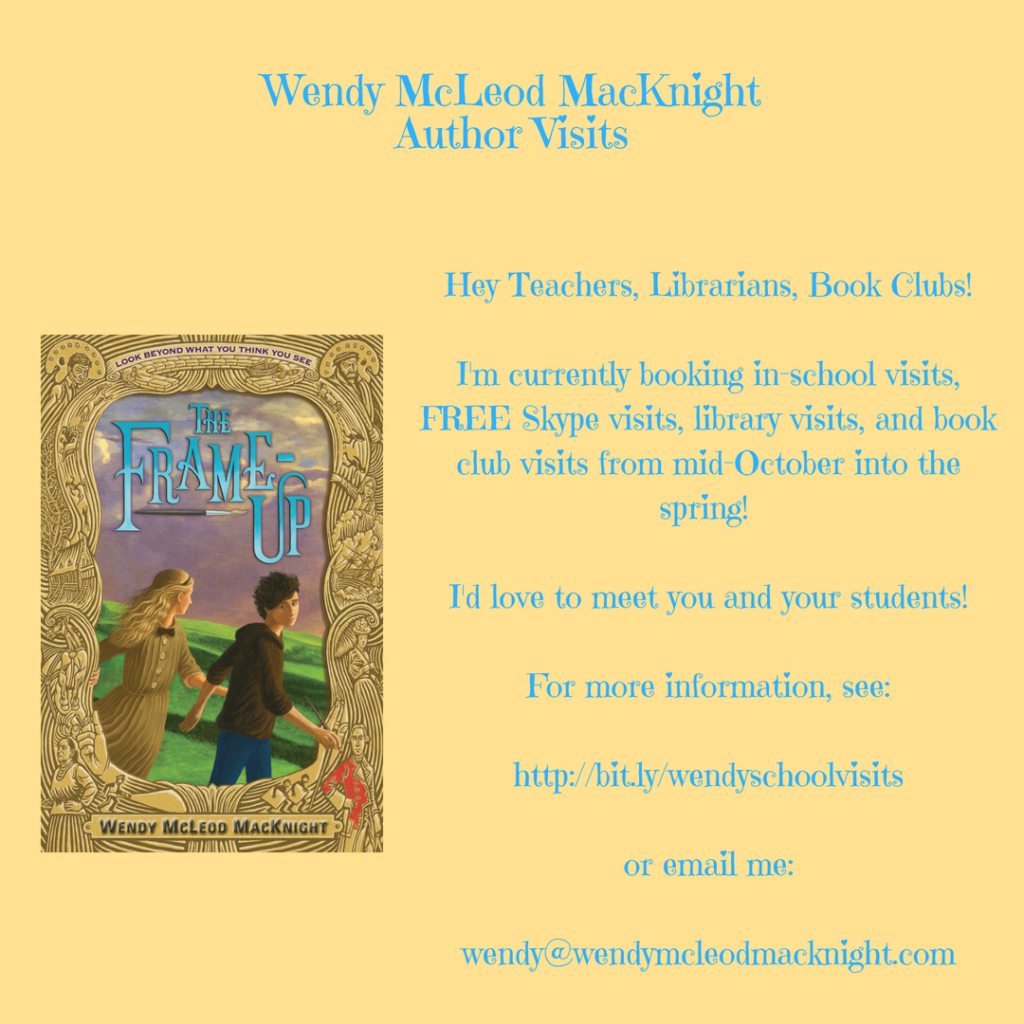 Would love to meet your kids!!!
I'm also travelling a lot in the next week. Come see me!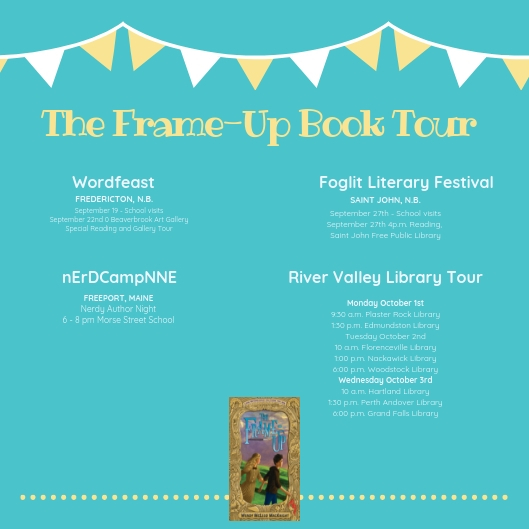 I'm really excited about Freeport, because I'll FINALLY be able to meet some of my author friends!!!!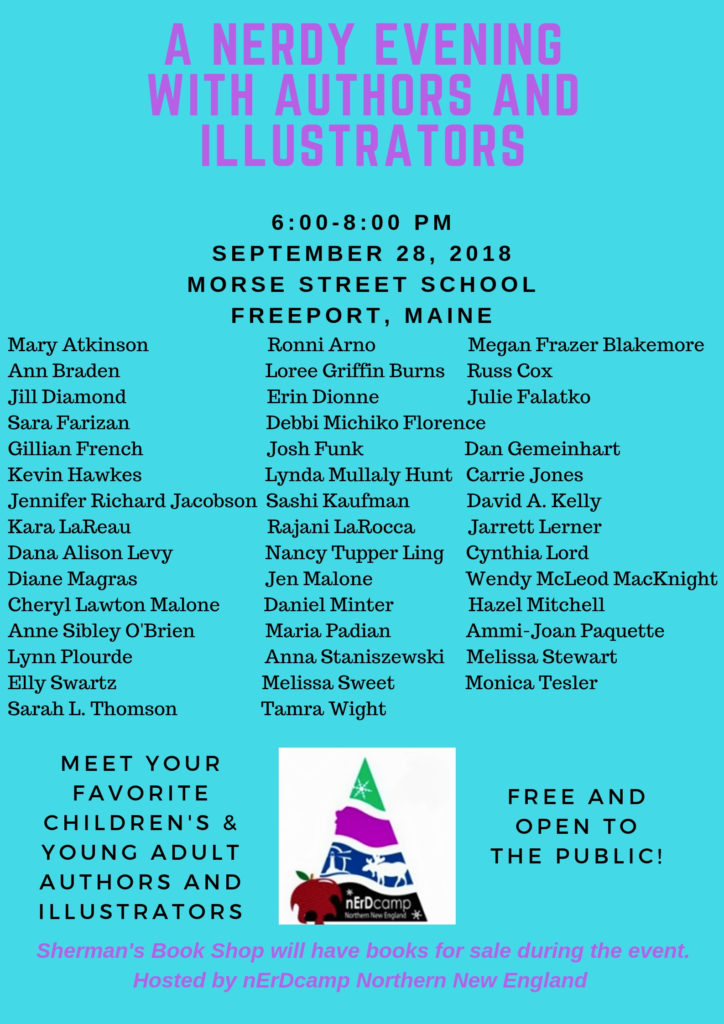 Things are hopping again, and I couldn't be happier!  Will report back next week!