There is a first time for everything, and this past Monday was my first time doing a school visit as author!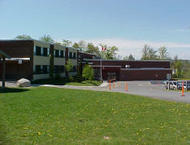 Luckily for me, the school is an awesome one – Garden Creek Elementary School here in Fredericton – and the students were a delight!
For the next 6 weeks I will be conducting a creative writing class with 15 wonderful students every Monday afternoon.
I learned my first lesson on Monday: prepare, but remember that these are kids and they are going to ask a LOT of questions. I will know better for next Monday!
All I could think while I was talking to them was "This is the most fun ever." Not a bad way to spend an afternoon and what a wonderful school to indoctrinate me into the world of school visits!
Heartfelt thanks to Principal Moffitt and the great kids at Garden Creek!