Hi everyone,
Wanted to share two new releases this week, written by a couple of Canadian writers who are exceptionally talented!
They're the second in a series and you absolutely do NOT need to read book one (but you are SO going to want to, I promise!)
Without further ado:
Howard Wallace, P.I., #2: Shadow of a Pug
Description:
"Give this to fans of Encyclopedia Brown who are looking for longer (and funnier!) well-plotted mysteries." —Booklist on Howard Wallace, P.I.
"My partner scanned the message and a slow grin took over her face as she said our four favorite words: ' We have a case.'"
HOWARD WALLACE IS BACK!
Middle-school detectives Howard Wallace and Ivy Mason are itching for a juicy case. But when their friend and cohort Marvin hires them to prove his nephew— über-bully Carl Dean—didn't pugnap the school mascot, they're less than thrilled. To succeed, not only must Howard and Ivy play nice with Carl, they'll have to dodge a scrappy, snoopy reporter and come face-to-face with Howard's worst enemy, his ex-best friend Miles Fletcher. Can Howard deal with all these complications and still be there for Ivy when her life is turned upside down? Or will he once again find himself a friendless P.I.?
"Another sequel is in the offing, and young mystery fans should be glad." —Kirkus Reviews (less)
What I think:
Howard and Ivy are back! And twice as funny as they were in book one! This time they're hot on the case to figure out who took school mascot, Spartacus, and framed Howard's #3 nemesis Carl. You know this is going to be a humdinger, and Casey Lyall does not disappoint. This is a wonderfully fun book, and I can't wait for book three!
For more information:
Visit Casey's website!
The Adventurer's Guide to Dragons (and Why They Keep Biting Me)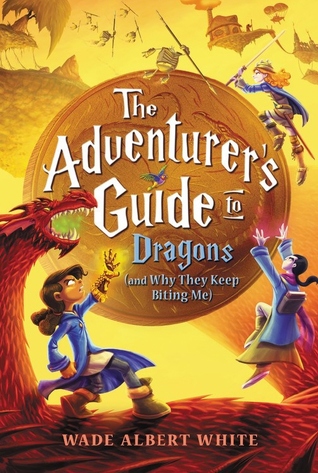 Description:
Get ready for dragons, robots, and an even more dangerous quest in the sequel to The Adventurer's Guide to Successful Escapes!

Anne, Penelope, and Hiro have returned to Saint Lupin's Quest Academy for Consistently Dangerous and Absolutely Terrifying Adventures, where there's only one way to leave: pass or fail. At the annual Quest Academy awards, they're recognized for their success in their first outing-Best Illegal Quest That Nearly Destroyed the Entire World–but a strange boy steals Anne's gauntlet and activates a new quest that pits them against all of dragonkind. Their charge: kill the dragon queen. The problem is, Anne doesn't want to kill any dragons! But ignoring a quest can have horrible consequences, just as killing the dragon queen would start an all-out war between people and dragons. To avert disaster, Anne and her friends will have to dodge robot attacks, defeat new foes, and survive the dangerous dragon trials just for a chance to explain.
With charming, funny text and lots of heart, The Adventurer's Guide to Dragons is the perfect read for anyone who likes fantasy with lots of laughter.
What I think:
Seriously, Wade Albert White is one of the funniest authors writing today. This book, book two in the Adventurer's Series, is even better than the first and just as witty and creative. Anne and Penelope and Hiro are off on another quest, one that could result in them being shish-kebobs for the Dragon Queen. Rollicking adventure, brilliant writing, clever plot-twists – this book has it all!
For more information:
Visit Wade's website!
Guaranteed good reads!!!!