I went home this week.
Some things will never change. Some things will always be the same. Lean down your ear upon the earth and listen.

– Thomas Wolfe, You Can't Go Home Again
I've been in my old stomping grounds these last few days, taking some video footage to include in the book trailer for It's a Mystery, Pig Face!
I haven't lived in St. Stephen since 1977. Honestly, I hardly know and hardly recognize many of its citizens now. But if you ask me where I'm from, I will always say St. Stephen. And whenever I'm back I always feel welcomed.
And as much as I hold the people I grew up with close to my heart – most of them have long moved on to other places both seen and unseen – it is the land that I roamed that stays with me.
The railway tracks I walked again and again and again. Today I suppose we would call this a dangerous endeavor, but only two trains went by daily, so it hardly seemed fraught with peril, save my ongoing fear that the evil M brothers (neighborhood bullies) might be lurking in the bushes smoking.
The Big Rock we found one summer in the woods and visited religiously. It was all the more desirable as it required crossing Dennis Stream. The threat of water, the need for leaps of greatness, the civil engineering involved in building plank bridges or placing perilously large and unstable rocks just so, made going there an expedition and who doesn't love an expedition?
When I began to write my book there was only one place where Tracy and Ralph could hold their secret meetings: The Big Rock.
Our route this time involved parking behind the mall and crossing the swampy, spongy ground to the forest beyond. My preteen bravado of walking (or scurrying) through the old junkyard at the far end of the gravel pit was replaced by the middle-aged me worrying about trespassing, though I think that next time (and there will a next time) I will just check in and ask for permission. Maybe they'll buy a book.
Still there was a muscle memory to the walk across that field. I recognized those grassy humps immediately, the feel of them underfoot and how they kept me perpetually off-balance. I was thrilled to jump over the stream (even if I did get stuck once), and as I walked into the woods I felt such a profound sense of belonging somewhere, of knowing someplace, that it was overwhelming.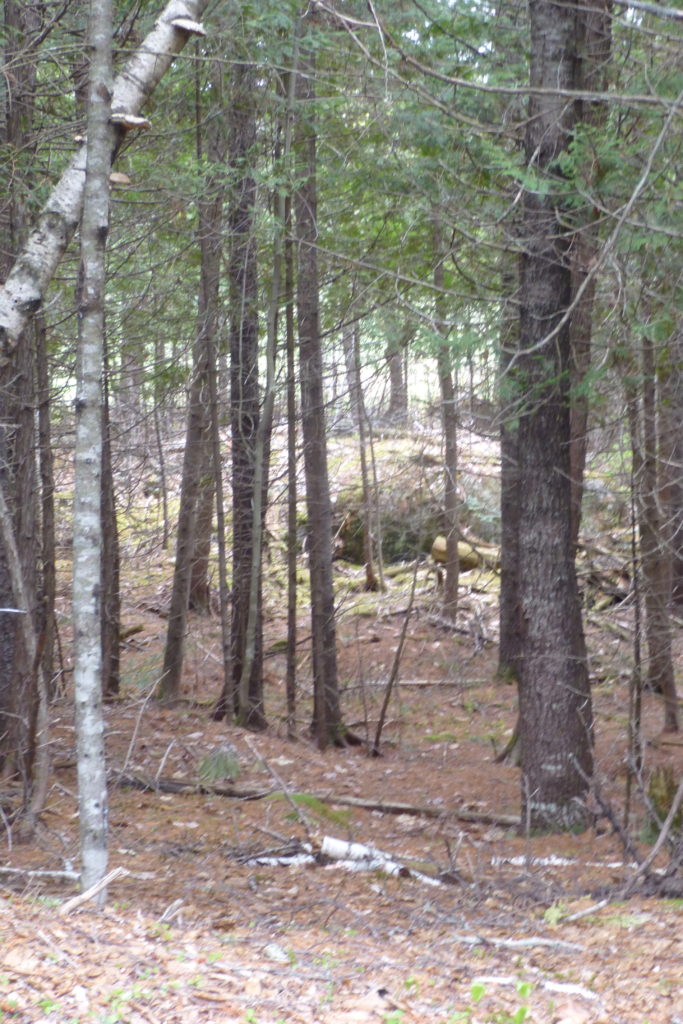 At the top, remnants of a small fire remained, reminding me that we were not the first to find and use The Big Rock, nor the last.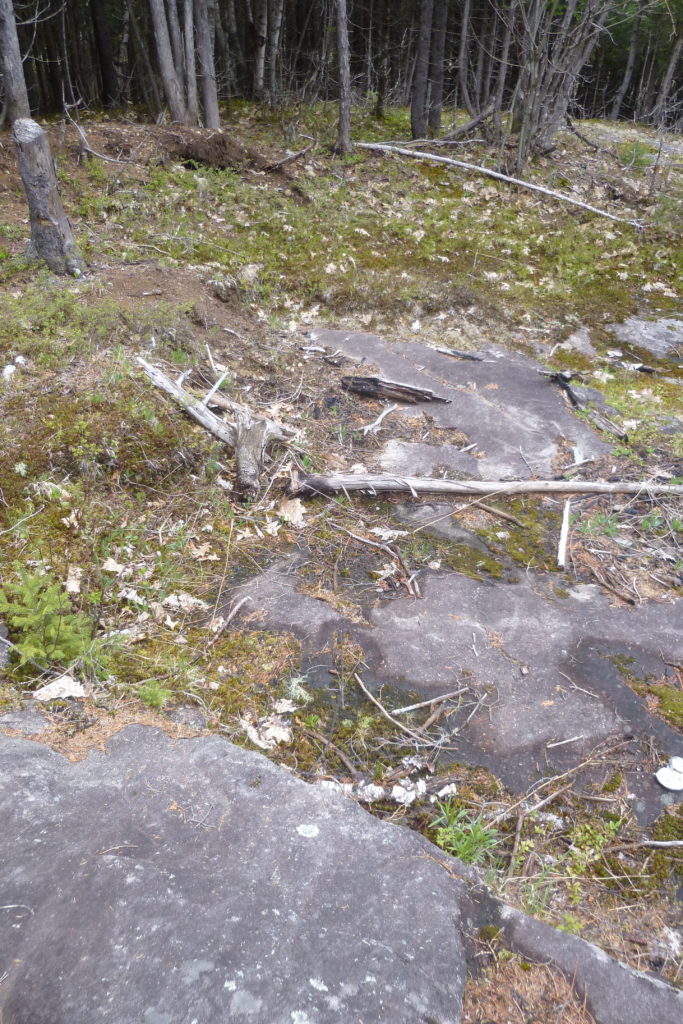 I stood on the top for quite awhile. In the distance I could hear the sound of traffic, the boom-boom-boom of the heavy equipment at the gravel pit. I was surprised at how close this small woods was to everything, but was reminded that we were only kids then and that a quarter of a mile into the woods made us feel like modern day Jacques Cartiers and Samuel de Champlains (who'd only lived a few miles up river).
The ghosts of my friends were everywhere. I saw the spot where I fell and split open my chin, refusing to go home to have it dealt with in case I missed some kind of excitement (a personality trait I have yet to drop). I have no idea how I sopped up the blood – leaves probably – and I still bear the scar on my chin today.
I'll spare you the wobbly video I took; I'm sure I got enough for the trailer.
Later, we stopped on my street and took some pictures. We scouted book launch locations. We took my nearly 92 year-old friend for lunch.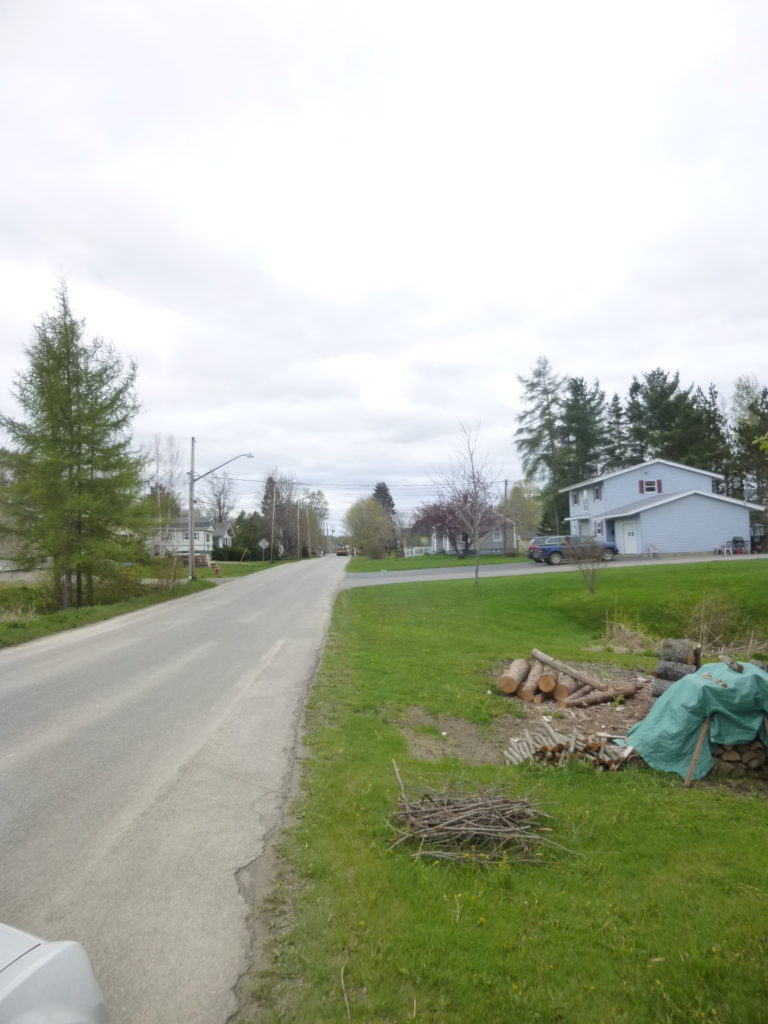 The thing about going home is that, of course, everything is different.
I wanted to knock on doors, shout: "Here's where I fell of my bike!", "Here was Brown's Corner Store", "Mrs. Getchell made the best ginger snaps!", "Alton had the best matchbox cars!", "We played baseball and road hockey here", "My dog Charlie liked to lie in the sun here", "There's where I cried over my first crush."
I like to think that when my book is published local kids will easily find all of the spots in the book.
They'll forge the stream, climb to the top of Big Rock, be positive that someone is spying on them, bicycle to get a Popsicle afterwards.
I can't wait to meet those kids.
I'll tell them to dream big, read like crazy, be thankful that they live where they're living, if only for the beginning of their life.
And I'll remind them how important it is to get outside, explore your world, have adventures.
Everything changes, but The Big Rock endures. I think it will be pleased to have a starring role in the book.