Two very different but very compelling books are being released today that I absolutely adored!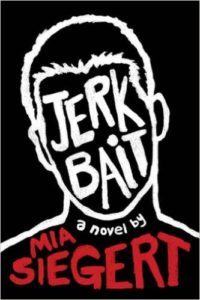 The first novel is #Jerkbait by Mia Siegert.
I had the pleasure of interviewing Mia about this book for the Swanky Seventeens blog, which you can read here.
Here's the description:
Even though they're identical, Tristan isn't close to his twin Robbie at all—until Robbie tries to kill himself.
Forced to share a room to prevent Robbie from hurting himself, the brothers begin to feel the weight of each other's lives on the ice, and off. Tristan starts seeing his twin not as a hockey star whose shadow Tristan can't escape, but a struggling gay teen terrified about coming out in the professional sports world. Robbie's future in the NHL is plagued by anxiety and the mounting pressure from their dad, coach, and scouts, while Tristan desperately fights to create his own future, not as a hockey player but a musical theatre performer.
As their season progresses and friends turn out to be enemies, Robbie finds solace in an online stranger known only as "Jimmy2416." Between keeping Robbie's secret and saving him from taking his life, Tristan is given the final call: sacrifice his dream for a brother he barely knows, or pursue his own path. How far is Robbie willing to go—and more importantly, how far is Tristan willing to go to help him?
My thoughts on the book:
I couldn't put this book down! The story of two hockey-playing brothers, Tristan and Robbie, this book deals head-on with the issue of gay athletes, the stereotypes associated with sports & artistic endeavors. This book is a roller coaster ride, and our hearts break for the two brothers, who initially not close at all, are thrust together after a suicide attempt. But should one brother be his brother's keeper? And if the students in their school are bigoted, they pale in comparison with the boys' parents who have invested everything in achieving a certain end at all costs. I actually know some hardcore hockey parents who live vicariously through their junior league hockey children, and while this may some far-fetched, it is actually pretty accurate. This book is all greys and nuance – the characters are three-dimensional and often do things we don't want them to do. Such an amazing debut and a book that deserves widespread distribution. I loved these boys and am still rooting for them!
The book has had high praise from those in the world of sports:
"Every athlete, parent & high school kid, gay or straight, will see some of themselves reflected in #Jerkbait" -Brian Kitts @YouCanPlayTeam
"#JERKBAIT was an excellent read on the complex issues facing LBGTQ athletes" – Chris Kluwe, former NFL player.
A fantastic book by an author who is a rising star! Five stars!
The second book is SUMMER OF SUPERNOVAS by Darcy Woods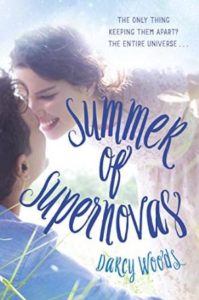 This book is pure, gorgeous romance.
The description:
Fans of Jennifer E. Smith and Jenny Han will fall in love with this heartfelt and humor-laced debut following one girl's race to find the guy of her cosmic dreams.
When zodiac-obsessed teen Wilamena Carlisle discovers a planetary alignment that won't repeat for a decade, she's forced to tackle her greatest astrological fear: The Fifth House—relationships and love.
My take:
I'm not going to lie: I signed up to read an advanced readers copy as soon as I read the blurb about this book. As an otherwise sensible Capricorn, I cop to reading my horoscope daily and keeping an eye out for mercury in retrograde. The heroine of this book, Wil, does the same.
Wil has 22 days to find the love of her life, the love pre-destined in the astrology chart her late mother prepared for her on the day she was born. Her mother ignored her own chart when it came to love, with disastrous results. Wil is determined not to make the same mistake. But then she meets Grant, and Seth, and things become, well, complicated.
The characters in this book seemed so real to me! I loved Wil and her best friend Irina, Gram felt just like I thought Gram should feel and the love interests were, to put it succinctly, hot. This book is going to be devoured by fans of YA romantic fiction and good storytelling and I predict when the book comes out (which I believe is when the Zodiac is in Aries) many astrological charts will be plotted…. Well done Darcy Woods!
If you want to hear a wonderful interview with Darcy, take a listen here.
Congratulations Darcy! Love this book to the moon and stars and back!
Order your copies today, guys, these are guaranteed enjoyable reads!