"We must have ideals and try to live up to them, even if we never quite succeed. Life would be a sorry business without them. With them it's grand and great."
Lucy Maud Montgomery, Anne of Avonlea
Ah, you didn't think I could start a post about diversity in children's literature with a Lucy Maud Montgomery quote, did you?
But as with many things L.M. Montgomery wrote, her words hold true nearly a hundred years later.
The children's book world in which L.M. Montgomery wrote nearly a hundred years ago was full of books that portrayed a white Anglo-Saxon view of the world.
Sadly, that world is only beginning to change all these decades later.
What's my ideal? A world where we value diversity, REALLY value diversity.
And the only way to do that is if WE change.
Because here's the thing: literature is how many of us learn about the world.
And if we don't have books that tell us stories written from the perspective of others, whether based on race, culture, religion, sexual orientation, gender identification, physical ability or mental health realities, then all we are left with is our perspective of the world.
When we only have our perspective of the world, we are distrustful of others' perspectives.
When a child walks into a library or a local bookstore and can't find a book that in any way shape or form represents them or their life, we have failed them.
When a child walks into a library or a local bookstore and can only find a book that represents their life, we have failed them.
The beauty of this world is that there are seven billion ways to be.
My book, loosely based on my childhood, is only one way to be.
But sadly, right now our books don't truly represent the reality of how we are on Planet Earth: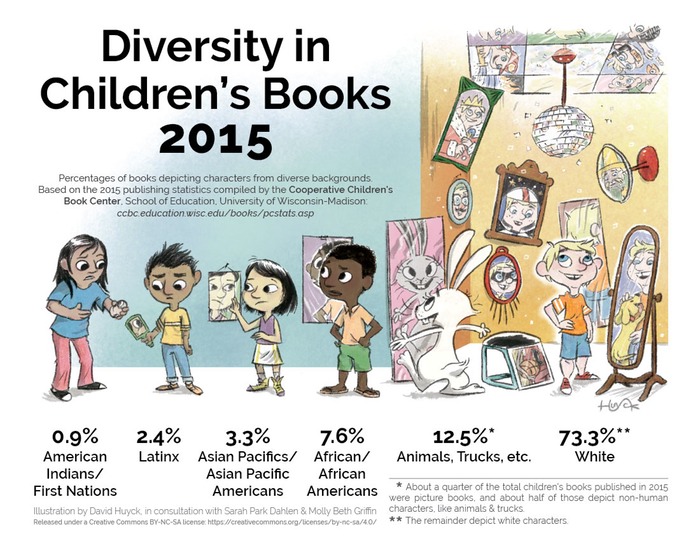 But we can change that. We can buy books that support and promote diversity. The book business is, in the end, a business. If we are buying diverse books, publishers will publish even more. If we support authors that provide us with another view of our vast and beautiful world, we are supporting a future where children are not surprised by the different, but delight in it.
In her book of the same name, author Lisa Cron tells us we are wired for story. We learn, process, form values and beliefs, from hearing and reading stories.
Reading diverse books can't help but sow the seeds of questioning what is and what can be.
Comedian George Carlin once said:
"Don't just teach your children to read…
Teach them to question what they read.
Teach them to question everything."
Reading diverse books can't help but make us better people. It can't help but make our world safe, more inclusive.
Reading diverse books sows seeds of love and understanding. When we hear another's story, we hear THEM.
When we hear about their struggle, suddenly it feels like it's our struggle, too.
Sometimes, someone else's struggle might make us feel guilty. That's okay. That's what's supposed to happen. That's what helps us grow as human beings. That's what starts the healing and the understanding.
So where do you start?
There are tons of resources on their webpage: book recommendations, program information, a fabulous blog among other things.
I'd also recommend you search for #ownvoices on Twitter.
And then, once you're armed with your book list, you are set to go!
Buy books that support diversity! Ask your library to order diverse books. Recommend diverse books to your friends.
It's our collective responsibility to change our world for the better.
We must support marginalized writers wherever and however we can.
But mostly, we must listen to what they tell us, what they write for us. We must listen to THEIR stories.
Those stories will change the world.