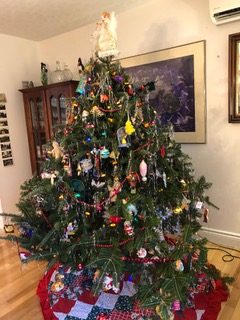 The tree is up and I am still writing madly, but I wanted to send you a holiday card and say THANK YOU!
Your support this year has been particularly appreciated. Each and every comment has warmed my heart and encouraged me to keep going!
As 2020 comes to a close, I want to wish you and your family a happy holiday season and most of all, a blessed and healthy 2021. If this year has taught me anything, it is that we are all in this together.
One of my favourite authors, the timeless Charles Dickens, said it best:
YOU have lightened MY burdens! Stay tuned, as I've decided that the first week of January, I'm going to offer a fantastic (and exclusive) giveaway to followers of this blog!
In the meantime, feel free to pop over to middle grade minded blogspot, where I talk about my writing mentors, including YOU!
Until, then take care of yourself, be kind to yourself, and BELIEVE.
HAPPY NEW YEAR!