If only the acquisition of knowledge and experience were a straight line.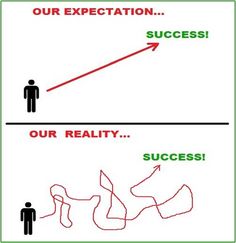 When I embarked on my new career, I knew it would take time to learn the skills and knowledge required to master writing.
Malcolm Gladwell posits that it takes approximately 10,000 hours to gain mastery.
I estimate I invested between 60,000 and 70,000 hours in my previous occupation. No wonder I felt like I had a handle on what I was doing!
I am starting all over again. I reckon that in the past three years I have accumulated around 6,000 writing hours. I'm inching towards 10,000, but it sure doesn't feel like it sometimes.
I also have the uncomfortable feeling that at least half of those hours don't even count, as I didn't have a clue what I was doing! Wait – I'm still not sure I know what I'm doing half the time…
I knew it would be humbling to start over, just not sure I knew it would be SO humbling!
Am I being hard on myself? Probably. On the other hand, if you expect someone to publish your book and someone to read it, you should be hard on yourself I think.
Last week I handed in a manuscript to my agent. I have worked hard on this particular book over the past six months. I have written and rewritten it, edited and revised it, gotten excellent critiques and suggestions, and yet I am still on pins and needles. I love the work, but I am afraid I have missed something. I love the work, but I'm afraid she might think otherwise.
In my old career, I knew for sure whether or not something I passed in would pass muster. I am not yet there with this new career. And it is very disconcerting!
But I will keep writing, rewriting, reading, researching, doing whatever I need to do to put in the time until I can accurately and objectively assess my work with the same accuracy I once employed.
the meantime, I will light candles…