It is a haunting portrait.
Lucian Freud's Hotel Bedroom, painted in 1954, is one of the most popular and valuable paintings at the Beaverbrook Art Gallery, and it is also one of the most perplexing.
If you wanted to cast a villain for your story, really could there be anything better than this smoky-hued man, hovering in the background, staring down at the vacant-eyed woman in the bed?
In The Frame-Up, he is appropriately named Mr. Dusk, Lord Beaverbrook's right-hand man, who spends his evenings spying on the other residents on behalf of the boss.
But Freud had painted Dusk as a grey, shadowy figure, and because of that, most of the residents of the gallery gave him a wide berth.
In the story, Mr. Dusk is a thorn in Mona's side, who may or may not be out to get her.
She was back in the blank canvas when she spotted Dusk in a landscape a few paintings away. Did Max know he was breaking the rules? As if he sensed her presence, Dusk turned and looked in her direction. Then he disappeared, and she heard his footsteps coming towards her.
Dusk plays a pivotal role in the book, and is responsible for quite a few twists and turns in the story. And just like in the book, his placement on the cover makes him look mysterious and creepy.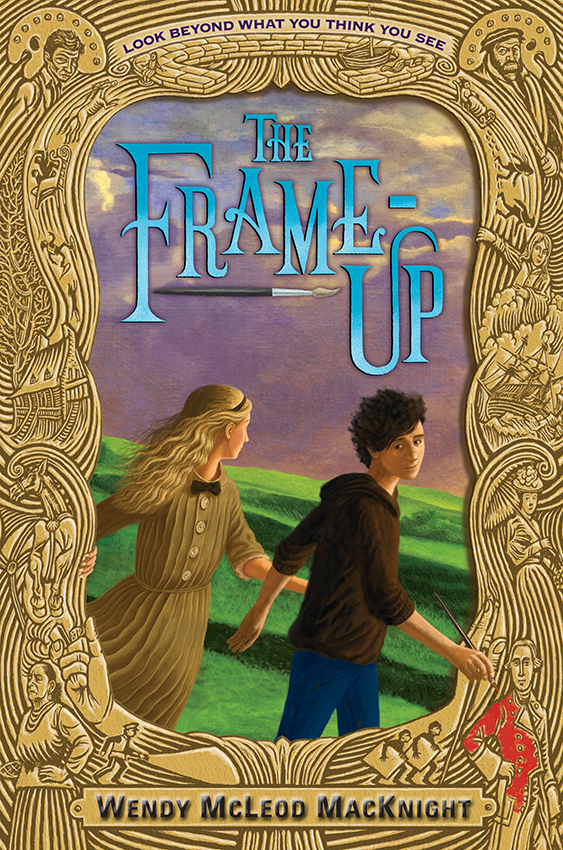 I can't wait for you to meet him!