It's been a long week.
Apart from the election results which shocked me, I was dealing with a death in the family.
Yesterday morning, I woke up at 3:30 to the news of a new President. I was heading to a funeral. I was sad, and mad, and bewildered.
It was like a total eclipse of the sun.
And then I went on to twitter and a tweet by author Julie Leung literally got me through the day.
She tweeted a passage from Tolkien's The Two Towers, one of my favourite books, and literally, it picked me up off the ground:
"Frodo: I can't do this, Sam.

Sam: I know. It's all wrong. By rights we shouldn't even be here. But we are. It's like in the great stories, Mr. Frodo. The ones that really mattered. Full of darkness and danger, they were. And sometimes you didn't want to know the end. Because how could the end be happy? How could the world go back to the way it was when so much bad had happened? But in the end, it's only a passing thing, this shadow. Even darkness must pass. A new day will come. And when the sun shines it will shine out the clearer. Those were the stories that stayed with you. That meant something, even if you were too small to understand why. But I think, Mr. Frodo, I do understand. I know now. Folk in those stories had lots of chances of turning back, only they didn't. They kept going. Because they were holding on to something.

Frodo: What are we holding onto, Sam?

Sam: That there's some good in this world, Mr. Frodo… and it's worth fighting for."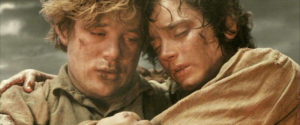 It made me think of our children, and how books can be such a comfort to them in times that feel dark.
If I was a doctor I'd prescribe heavy doses of C.S. Lewis, I'd toss in all of Tolkien, some Adam Silverman, Jacqueline Woodson, Rita Garcia Williams, Some Louisa May Alcott, some Kenneth Oppel, I'd make sure they had Neil Gaiman's Coraline, so they could see that even a child can vanquish evil. And Harry Potter, always Harry Potter.
They need those stories. We need them.
I'm Canadian. Heck I couldn't even vote. But I can send love and hope.
There's good in this world. And thank god there are books that help us navigate such choppy waters.
Julie didn't know what she did for me yesterday with her tweet. It reminds me how we can all pay it forward.
And yes, I would love your prescriptions for books that would make me and other children feel better this week.
xoxo Wendy