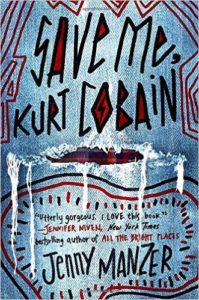 I knew from the very first line that Save Me, Kurt Cobain was going to a great book.
The day my mother walked away, the snowdrops had just appeared.
I mean seriously, right?
Haunted by the disappearance of her mother ten years ago, Nicola Cavan has been living a kind of half-life with with her father Verne in Victoria, B.C. She has exactly one friend, Obe, and the only delight she finds in life is through her music, especially the music of Nirvana.
And when a chance discovery leaves her with the impression that Kurt Cobain might actually be her biological father, Nico sets off on a journey of self-discovery that could get her the answers she wants – but at what cost?
This book is a mystery within a mystery, a series of random or non-random events nested inside one another that are masterfully brought together in both the characters and the plot until they bust open at the end.
All of it is masterfully achieved by the exquisite craftsmanship of Jenny Manzer, whose characters make us ache with things both said and unsaid, and through her use of imagery to help us see.
Nico is an astute, though jaded, observer of her world, and it is her observations that ground us in the truth of what it is like to be the little girl left behind:
I read more about it online and discovered that babies can't hold on to their memories because of their underdeveloped limbic systems, as if their little brains are change purses with holes in the bottom.
I read that line on the plane coming back from Toronto recently and circled it. It's on page six. I thought to myself "Holy cow, this is perfect".
And then Jenny Manzer continued to deliver that perfection, page after page.
There is a purity to her writing, an economy to it, that allows us to really feel this story, and it is achingly beautiful.
I am not a fan of Nirvana, but by the time I finished the book, Nico (via Jenny) had so thoroughly and subtly indoctrinated me into the magic and philosophy of their music that I now feel compelled to download some onto my iPod.
A sign of a good book is when you learn things-factual and emotional-that stay with you once you close the cover.
I hope that someday Jenny revisits Nico. I'd like to meet her again in her twenties or thirties, when she's had time to really process things. I'd like to think she'll be happy. I'd like to think she's a good mother to a couple of kids, the kind who talks to her kids, listens to them, and most of all, stays.
This book is beautiful a definitely gets five stars,