As promised, I thought I'd put together a fantastic giveaway of books I love, including my own!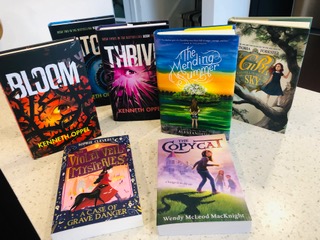 In addition to The Copycat, I am throwing in some fantastic books:
Kevin Oppel's BLOOM trilogy, which is fabulous, Ali Standish's THE MENDING SUMMER, which is glorious and heartbreaking, THE GIRL WHO FELL FROM THE SKY by Victoria Forester, and Sophie Cleary's delightful VIOLET VEIL MYSTERIES: A CASE OF GRAVE DANGER!
For a chance to win, leave me a message before Friday the 12th and you'll be entered in the draw! I'll pop them in the mail straight away, ready to be loved by your kiddos or your students! And they'd make swell presents!
GOOD LUCK!!!!!!!