"As Hagrid had said, what would come would come and he would have to meet it when it did." ― J.K. Rowling Harry Potter and the Goblet of Fire
Childhood is not easy.
We often look back at it with wistful, nostalgic eyes, happy to remember the Christmases where we got exactly what we wanted, or as a time without bills to pay, work to do. A time without a care in the world.
Should we dig further we know that isn't true. How many stomach aches did we have over tests, bullies, parental disagreements, friends who we were on the outs with?
I know I did. Much as I look back with fondness at my childhood, I can also remember the painful things, the things out of my control.
And for so many children, the ability to articulate fears, ask questions of clarification, simply does not happen because they lack the language and emotional ability to pose them.
Which is why they so desperately need books.
Stories where the main character is struggling with challenging situations can be a comforting way for children to know they're not alone.
I've read lots of books this year that hit this mark to a T and would highly recommend them:
Raymie Nightingale by Kate DiCamillo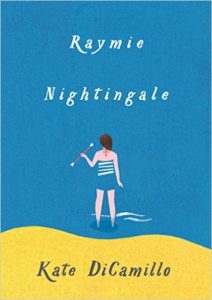 The description:
Raymie Clarke has come to realize that everything, absolutely everything, depends on her. And she has a plan. If Raymie can win the Little Miss Central Florida Tire competition, then her father, who left town two days ago with a dental hygienist, will see Raymie's picture in the paper and (maybe) come home. To win, not only does Raymie have to do good deeds and learn how to twirl a baton; she also has to contend with the wispy, frequently fainting Louisiana Elefante, who has a show-business background, and the fiery, stubborn Beverly Tapinski, who's determined to sabotage the contest. But as the competition approaches, loneliness, loss, and unanswerable questions draw the three girls into an unlikely friendship — and challenge each of them to come to the rescue in unexpected ways.
My thoughts:
Raymie's stress and desperation is both heartbreaking and heartwarming and there is no better storyteller than Kate DiCamillo. Raymie is a heroine for the ages.
Paper Wishes by Lois Sepabhan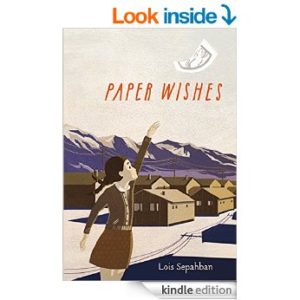 The Description:
Ten-year-old Manami did not realize how peaceful her family's life on Bainbridge Island was until the day it all changed. It's 1942, after the attack on Pearl Harbor, and Manami and her family are Japanese American, which means that the government says they must leave their home by the sea and join other Japanese Americans at a prison camp in the desert. Manami is sad to go, but even worse is that they are going to have to give her and her grandfather's dog, Yujiin, to a neighbor to take care of. Manami decides to sneak Yujiin under her coat and gets as far as the mainland before she is caught and forced to abandon Yujiin. She and her grandfather are devastated, but Manami clings to the hope that somehow Yujiin will find his way to the camp and make her family whole again. It isn't until she finds a way to let go of her guilt that Manami can reclaim the piece of herself that she left behind and accept all that has happened to her family.
My thoughts:
Besides being beautifully written, Lois Sepabhan doesn't sugar-coat the reality in which Manami finds herself, nor her misery and guilt at losing her beloved Yujiin. What she does do is show her readers that beauty and comfort exist in places both expected and unexpected, and that hope and dignity can never be taken from us.
Counting Thyme by Melanie Conklin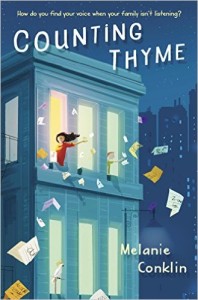 The Description:
When eleven-year-old Thyme Owens' little brother, Val, is accepted into a new cancer drug trial, it's just the second chance that he needs. But it also means the Owens family has to move to New York, thousands of miles away from Thyme's best friend and everything she knows and loves. The island of Manhattan doesn't exactly inspire new beginnings, but Thyme tries to embrace the change for what it is: temporary.
After Val's treatment shows real promise and Mr. Owens accepts a full-time position in the city, Thyme has to face the frightening possibility that the move to New York is permanent. Thyme loves her brother, and knows the trial could save his life—she'd give anything for him to be well—but she still wants to go home, although the guilt of not wanting to stay is agonizing. She finds herself even more mixed up when her heart feels the tug of new friends, a first crush, and even a crotchety neighbor and his sweet whistling bird. All Thyme can do is count the minutes, the hours, and days, and hope time can bring both a miracle for Val and a way back home.
With equal parts heart and humor, Melanie Conklin's debut is a courageous and charming story of love and family—and what it means to be counted.
My Thoughts:
Bad things happen to good families. And it's okay to feel like things suck and to be frustrated and scared. Conklin allows Thyme to be a full-bodied character, not Miss Perfect , and we feel her misery and jealousy and frustration right along with her. Beautifully done.
There are so many more books I could rave about here (and will in future posts!) but thought it would be nice to highlight three that are perfect examples of how children's literature can support and comfort in subtle, but substantial ways.
These are all 5 star books and will be treasured by the child who reads them!
I'd love to hear what books you'd recommend that would help a child coping with the pains of the reality.