Spring has sprung and it only seems appropriate to talk about the most spring-like painting in the book, Madame Juliette dans le Jardin.
Madame Juliette is one of the most important characters in The Frame-Up.
She is Mona's confidante.
Like Mona, her painting is also about to be restored.
She is also Mona's ideal of the perfect romantic heroine, since Madame Juliette is engaged to be married to the dashing Lieutenant Colonel Edmund Nugant. (more on him later!)
Mona is to be a bridesmaid at their upcoming wedding. If only she'd thought to dress up more on the day she was painted!
(one of the rules of the world behind the frame is that you only have with you what the artist thought about while painting you, which for Mona is a blanket, a stool, and the same dress for over a hundred years.)
As befits the time in which she lived — the late 1800s — Madame Juliette is genteel, which is the exact opposite of Mona, who tears around the gallery as if it is her own private playground.
Still, Juliette is sympathetic to Mona; she remembers what is was like to be so young, and she understands Mona's frustration at doing the same thing day in, day out.
"How curious," Juliette said. "I believe he was watch- ing us."

"I'm certain he was," said Edmund. "Should I go after him?"

Mona stared at the now-deserted hilltop. "It would be a waste of time, Edmund; he's long gone. I suppose Max has him spying on me, making sure I don't step out of line again."

"Max is only trying to protect you," Juliette said. When she saw the face Mona pulled, she laughed. "Come, let us forget Monsieur Dusk. Perhaps a gelato would take your mind off Max."
Later in the story, Mona and Juliette face their greatest challenge together. Will they survive?
Can you find Madame Juliette on the cover?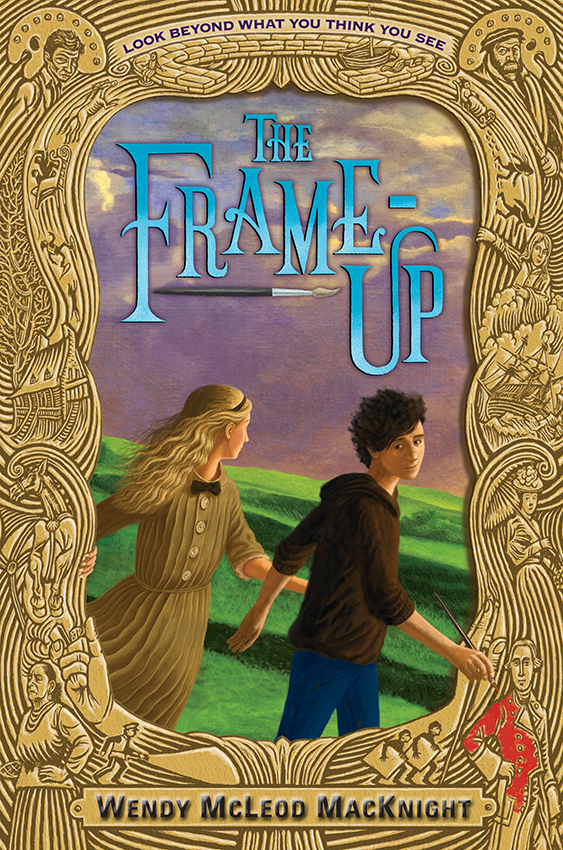 GIVEAWAY!
Since next week is Easter Weekend, there won't be a post next Friday, so how about a giveaway!
What's at stake:
An Advanced Reader Copy of The Frame-Up!
A set of postcards of the paintings at the Beaverbrook Art Gallery
How to enter to win:
Leave a comment here on the blog
Follow me on Twitter or Instagram
The winner will be chosen April 4th. Good luck!!!!
Don't worry if you don't win – I'm cooking up a fantastic contest of goodies that everyone who pre-orders The Frame-up will be eligible for! More details on that to come in early April!
Happy Spring!