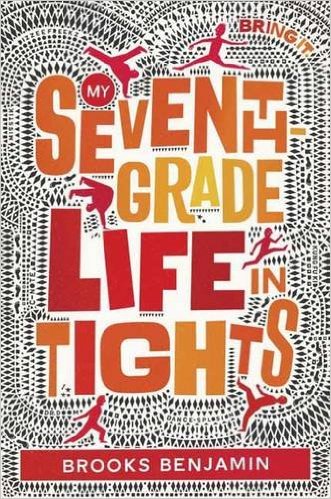 Live it, Work it, Bring it
Two important points before we get to the review:
I love to dance
My dance skills are – ahem – more in the Dillon-at-the-beginning-of-the-book category.
Phew, now that I've gotten that off my chest, we can proceed!
My Seventh Grade Life in Tights is Brooks Benjamin's debut novel, and if this book is any indication, he has a long and important career ahead of him!
Like me, Brooks is a fellow Sweet 16er, and he also blogs over at Middle Grade Minded.
And man, can he write!
What's NOT to love about this book?
First: you have amazing characters, all with their own agendas. You have dancing. You have friendship. You have competitions. Did I mention dancing?
And you have a lead character with heart. Dillon wants to be a real dancer, not just a guy with ninja leaps and karate kicks. So when he hears that the local dance studio (the same dance studio his friend and crush Kassie quit) is offering a scholarship, well, he can't resist sending in an audition video. Everybody has an opinion about what Dillon should of should not do, but ultimately, he is faced with a choice: follow his heart or make others happy? Is there are way to do both?
What this also is is laugh-out-loud funny! The quips between Dillon and his friend Austin are particularly good – something tells me that Brooks is listening very carefully to what he's hearing in the hallways of his school.
Mostly what this is is an ode to friendship and following your dreams. I loved every part of this story and can't recommend it enough! Witty, clever, and heartwarming, this is going to appeal to all your middle graders!
If you want to read more about Brooks, by all means, hop over to his website!
And for a special treat, here's the book trailer to whet your appetite!
Congratulations Brooks!
Here in Canada, you can order your copy here.
or order from Indiebound or Amazon.